It's Recreational Vehicle Time! We'll help you get your Motor Home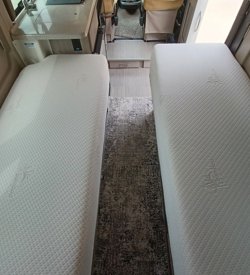 Mattress ready!
We are experts at making truly COMFORTABLE travel trailer mattresses. We'll measure carefully for the correct size. We can do cut-outs and cut-ins. We'll contour your RV mattress to fit the space. We even make FLIP UP R. V. mattresses! Call us now at 405-235-1142 for more information. (Click on mattress image for enlargement.)

When you call us, use this code: WJAN for our current website special.