TOPPERS
BED FRAMES
CUSTOM BEDS



Special Orders:
Customized sizes and specifications



Custom Beds include:
Antique beds - Frames
Water bed conversions
Baby beds - Trundle beds
Sleeper mattresses

CUSTOM MATTRESSES & BOX SPRINGS
We make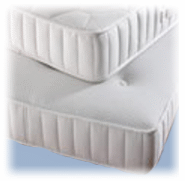 all types of inner spring mattresses from soft to extra firm: any size, any shape, any length - any type of custom work required! We use all cotton with our beds because it will outlast even the tempered steel spring units! We hand tuft our beds, which allows us to put more cotton in our bed and allows us to take the indentations in the mattress out of the mattress - permanently.
Box springs and different foundations include box springs, semi-flex, modular, and/or all wood. Our Box springs are actually made by hand by us in a coil-on-coil construction. Why? Because the bed feels more the way you want it to feel. It also supports the mattress better and allows it to last longer. (Similar to better shocks on the front of your car; it cushions your mattress.)
For more information about our mattress and pillow products, click here

CUSTOM BEDS & FRAMES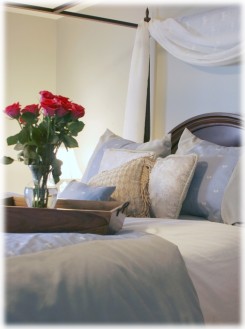 We make custom beds - all sizes, all types. Currently we are working on an 1800 French style bed. We can make any type! If you wish an antique style or special size -- we can do this for you. In fact, we have a reputation around town for dependability and the ability to make ANY type of bed. So much so, that the main companies in town all send their specialty customers to us!
We also carry all sizes of steel frames.